Oishii Mono wa Karada ni Ii (What tastes good is good for the health)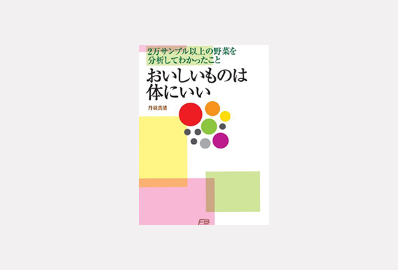 Data-based proof of the power of vegetables
Vegetables have not only nutrient functions, including vitamins, minerals, and dietary fiber, but also roles to coordinate our body in terms of antioxidant, immunological, and detoxification effects. We have analyzed these effects by using over 20,000 datas of fruits and vegetables which we have investigated. Our analysis has revealed that vegetables of different colors and grown in different areas have different effects, and that the intensity of a given effect can be changed by according to the cooking method and whether another ingredients are cooked together or not. This book shows you why vegetables are good for the body.
To readers interested in diet and health
While being a researcher, the author was once the president of a company that sold vegetables wholesale to restaurants every day. She considers people's health in these times of longevity, not only in the lab but also through practical learning.
Covering so many visualized effects of vegetables, this book is truly an eye-opener not only to consumers who are conscious of diet and health but also to nutritionists, cooks, restaurant owners,producers and even researchers.
Kinousei Yasai no Kyokasho (A textbook on functional vegetables)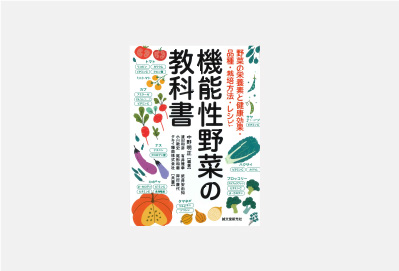 Functional vegetables, a recent hot topic
How "functional" are vegetables, and how should they be used?
This book shares the latest information on functional vegetables, lists the functional components of each vegetable and the health effects of these components, and introduces breed varieties to enhance the functions, and their cultivation methods, specific case examples of growing districts.
The book is useful for agricultural producers in selecting vegetables and their breed varieties. It describes breed varieties and their cultivation techniques, and shares cooking recipes for farmers' business expansion into vegetable processing, distribution, and sales.
We also recommend this book to diet-conscious consumers who consider eating as a means of maintaining their health. It contains analysis data of each vegetable's components and explains their health effects, which are very useful in terms of nutrition management.